Top stylish and modern dressing table designs for your home
A Complete Guide
The perfect dressing table is essential for your bedroom area because it is a significant piece of furniture that can enhance your room's interior décor and beauty. The majority of ladies would agree that a dressing table completes a bedroom. A bedroom without a quality dressing table designs is sorely empty for both females and males. When you choose a stylish and modern dressing table design for your bedroom, you will need to select one made with quality materials and details, such as a good base and sturdy structure. The best part about a good dressing table design is that it will allow you to get ready quickly in the morning.
You can use this furniture to put on your makeup, brush your hair, clothes, and apply your perfume. In addition, there are many stylish and modern dressing table designs in the market that you can choose from. So, if you are planning to buy one for your house, no matter how big or small (even if you are looking for interior design ideas for small house) then here are some of the top stylish and modern dressing table designs ideas you can consider.
Latest dressing table designs in India:
1. Modern Wooden Dressing Table with mirror
If you want to incorporate a modern look into your bedroom, you can opt for a modern wooden dressing table with a mirror. This kind of dressing table designs will add a sense of sophistication and luxury to your bedroom. It has a wooden base and mirror placed on top of it. The modern and latest wooden dressing table design is made with a sleek and simple design that will match the overall décor of your bedroom.
Wooden furniture always play a key role in making a good appearance in your home. Weather it is wooden sofa set, wooden coffee table, wooden dining table, or a wooden dressing table it is always a great furniture choice.  It's a brilliant choice for those who prefer a contemporary look. It will be a perfect addition to your bedroom because it will make the room look spacious and airy.
Benefits of a Dressing Table with a Mirror
a. Enhance Interior Designs
Style Coordination: A dressing table with a mirror can be chosen to complement your existing furniture, enhancing the overall aesthetic of your bedroom.
Focal Point: It may act as a centrepiece for the interior design of your space, highlighting its grace and usefulness.
b. Gives off a Romantic Vibe
Soft Lighting: When paired with soft lighting, a dressing table can create a cosy and romantic ambiance, perfect for getting ready or winding down.
Decorative Touch: The mirror's frame and the table's design can add a touch of romance to your bedroom décor.
c. Goes Nicely with Other Pieces of Furniture
Matching Sets: If you have other bedroom furniture pieces like a bed or wardrobe, a dressing table with a mirror can be part of a matching set for a cohesive look.
Functional Harmony: It provides functional harmony by offering additional storage and grooming space, making your bedroom more organized.
Dual Purpose: A dressing table can double as a workspace or study desk, providing versatility in smaller spaces.
Guest Room Addition: In guest rooms, a dressing table with a mirror can make your guests feel more at home, offering a dedicated space for their grooming needs.
Variety: Dressing tables come with various mirror styles, from full-length mirrors to smaller, decorative ones, allowing you to choose according to your preference and needs.
Illusion of Space: Mirrors are a terrific addition to smaller bedrooms as they provide the appearance of a larger space.
f. Practical Functionality
Storage Solutions: Many dressing tables with mirrors offer ample storage space for cosmetics, jewellery, and accessories, helping you keep your essentials organized.
Daily Routine Convenience: Having a mirror and grooming area in your bedroom saves time during your daily grooming routine.
2. Beautiful Full-length mirror dressing table
This is another one of the most common dressing table designs because it is very functional and elegant. The full-length mirror dressing table will create the illusion of more space in your bedroom. On the other hand, this design will also make you feel comfortable because you can easily use the mirror to check your complete appearance. The design of this dressing table is made with a full-length mirror and a dressing table with drawers. You can also add storage shelves and other decorative details to make the dressing table look elegant.
3. Stylish closet dressing table
If you have limited space for your bedroom, you can consider this design because it is small. This style is ideal for people who don't have a massive area in their bedrooms. It can be used as a closet, and it is easy to access because it has a drawstring that can be opened.
4. Designer double vanity dressing table
This design has a double vanity dressing table. It is a classic design that is known for its simplicity and quality. Wood, metal, or a mixture of these components can be used to create this style. It can also be designed in different types, such as modern, contemporary, traditional, and so on. This dressing table design has two drawers and two cupboards. If you have a small bedroom, then a double vanity dressing table is the best design. It is very functional because it allows you to store your makeup, brushes, and other beauty products in the two vanity cabinets.
5. Elegant round dressing table design
This is among the most popular dressing table designs. It has a smooth, sleek appearance. It is easy to clean and maintain. The design is also versatile. It's simple to keep spotless and manage. The style is very adaptable. It can be used as a nightstand, a desk, or a dressing table. You could also mix and match it with other design components to create a distinct and customized effect.
The round design of the dressing table is beautiful and will fit into almost any bedroom design. This design will provide you with a high-quality table that withstands an extended period. Choose a round table design with a circular top if you desire to employ the dressing table as a side table. Furthermore, it is ideal for your bathroom too.
6. Wardrobe with Dressing table
If you want to have a dressing table with storage space, wardrobe with dressing table is a good idea. Among the most prominent dressing table designs is modern wardrobe with dressing table designs for bedroom. It is made with a large wardrobe on the top and a dressing table below it. The dressing table and the closet have the same height, and the only difference is that the cupboard is wider than the dressing table. The most beautiful thing about such designer and stylish wardrobe with dressing table is that it can fit well in small spaces and be placed in any room of your house.
7. Dressing table with stools
Dressing table with stools is one of the best designs. This design is a perfect combination of a dressing table and stools. These stools are designed to put your makeup and other accessories conveniently. It will also allow you to use the dressing table as a mirror when getting ready. You can also use the stools as a table if you need to wear your shoes and Jewellery.
8. Unique wall mounted dressing table
This design is best for those who prefer to keep their dressing table on the wall. It has a built-in mirror, and you can also get a mirror frame for this style. It can be an excellent choice for those who have limited space.
This dressing table design can be used as a standalone piece of furniture, or it can be used as a side table. The wall-mounted dressing table can be an excellent option for those looking for a unique design that they can use in their bedroom.
9. Simple freestanding dressing table
This is one of the another type of dressing table designs that you can use for your bedroom. And it is one of the most popular designs in the market. This style is relatively simple to put all together. You need to screw the legs and the top frame together, and you can have a functional dressing table that you can use in your bedroom. However, if you want to buy a freestanding dressing table, you should choose a style that will not make the room too crowded.
10. Latest storage spacious Dressing table
This is one of the best type of dressing table designs on the market. It is designed with ample storage space under the top frame. So, you will have a lot of room to store your cosmetics, perfumes, and other items. This kind of design has storage drawers located under the top frame.
Benefits of a Dressing Table with Storage
Organization: Keeps your makeup, jewellery, and accessories neatly organized and easily accessible.
Space Saving: Maximizes space efficiency by providing storage within the dressing table itself.
Clutter Reduction: Prevents clutter on your bedroom surfaces by providing designated storage areas.
Quick Access: Ensures quick and convenient access to your grooming essentials.
Tidy Appearance: Helps maintain a tidy and uncluttered bedroom space.
Customization: Allows you to personalize your storage options based on your needs.
Enhanced Aesthetics: Combines functionality with style, enhancing the overall look of your bedroom.
Privacy: Offers a discreet storage solution for personal items.
Efficient Use of Space: Ideal for smaller bedrooms where space optimization is crucial.
Streamlined Morning Routine: Speeds up your morning routine by having everything in one place.
Reduced Stress: Minimizes the stress of searching for misplaced items.
Longevity: Increases the lifespan of your grooming essentials by keeping them organized and protected.
This was a list of some best stylish and modern dressing tables. You can choose from a variety of additional dressing table designs. However, these ten stylish and modern dressing table designs are the most outstanding options for your bedroom. So, if you are looking for a unique dressing table design, you should choose one of these designs or you can contact to any of the best architects for more interior designing ideas.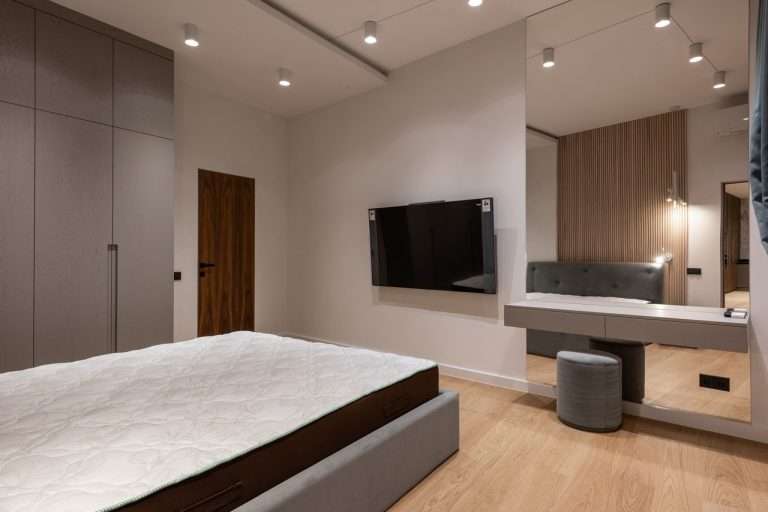 Buy Dressing Table Online at the Best Price in India
Are you on the hunt for the perfect wooden dressing table online in India? You should consider important points before making a purchase. This will ensure that you get a dressing table that best satisfies your needs. Below are some considerations you should make while buying a dressing table:
Things to Consider While Buying a Wooden (or any other) Dressing Table Online in India.
Things to Consider While Buying a Wooden (or any other) Dressing Table Online in India
Durability: Check the material's quality to ensure the dressing table lasts for years without wear and tear.
Wood: Begin by selecting the type of wood that suits your preferences and interior decor. Common options include Sheesham, Teak, and MDF.
MDF: Medium-density fibreboard dressing tables are more affordable and come in various finishes, but they may not be as sturdy as solid wood.
Available Space: Measure the area where you intend to place the dressing table. Make sure it fits comfortably without crowding the room.
Table top Space: Consider the table top size for placing your cosmetics and essentials.
Height: Consider the height, so the table and mirror are at a comfortable level for you.
Drawers: Determine the number of drawers you need to store your makeup, jewellery, and accessories neatly.
Shelves: Some dressing tables feature open shelves, providing easy access to frequently used items.
Type of Mirror: Decide whether you prefer an attached mirror or a separate one. Both have their advantages; an attached mirror can save space, while a separate mirror allows flexibility in positioning.
Size and Shape: Ensure the mirror size and shape complement the overall design of the dressing table and your room.
Adjustability: Some dressing tables have adjustable mirrors, allowing you to tilt them to your preferred angle.
Stool or Chair: Determine whether you'd like a matching stool or chair to accompany your dressing table.
Comfort: Choose seating with a comfortable cushion and appropriate height for ease of use.
Style: Ensure the seating style matches the dressing table's design and your taste.
Upholstery: If the chair or stool comes with upholstery, ensure it's comfortable and easy to clean.
Natural Light: Consider placing your dressing table near natural light sources to aid makeup application.
Artificial Lighting: If that's not possible, think about adding suitable artificial lighting to the dressing area.
Set a budget: Determine how much you're willing to spend. Dressing tables come in various price ranges to suit different budgets.
Value for Money: Look for dressing tables that offer the best features and quality within your budget.
Design: Choose a dressing table that complements your room's design, whether it's modern, classic, or rustic.
Colour: Select a finish that matches your room's colour scheme and enhances its overall aesthetics.
Finish: Decide on the finish that complements your room, whether it's a classic wood tone or a contemporary matte finish.
DIY or Pre-assembled: Check whether the dressing table requires assembly. Some may come ready-to-use, while others might need DIY assembly.
Delivery: Verify the delivery options, shipping charges, and estimated delivery time.
Keep these things in mind. You will be ready to choose the ideal dressing table online in India. Find one that satisfies your requirements.
Types of Wooden Dressing Tables Online in India
When it comes to choosing a dressing table for your bedroom, wooden options are not only durable but also add a touch of elegance to your decor. In India, you can find various types of wooden dressing tables online. Let's explore three popular options:
Solid Wood Dressing Table
A solid wood dressing table is a timeless choice. Here's what you need to know:
Material: It's made entirely from one type of wood, like Sheesham or Mango wood.
Durability: Solid wood dressing tables are sturdy and can last for generations.
Designs: They come in various styles, from traditional to modern, to match your bedroom decor.
Maintenance: Regular polishing and care can keep the wood looking beautiful for years.
A teak wood dressing table is known for its exceptional qualities:
Quality: Teak wood is resistant to termites, decay, and moisture, making it ideal for furniture.
Appearance: It has a rich, golden-brown colour and a natural shine.
Longevity: Teak wood dressing tables are built to last and can withstand daily use.
Craftsmanship: These tables often feature intricate carvings and detailing.
Modular Dressing Tables Design
Modular dressing tables offer flexibility and style:
Customization: You can mix and match different components to create a dressing table that suits your needs.
Storage: Modular designs often include ample storage space, including drawers and shelves.
Contemporary Look: They have a modern and sleek appearance that complements modern bedroom decor.
Functionality: Modular dressing tables are designed with practicality in mind, offering versatility for your grooming routine.
Benefits of Buying a Dressing Table Online in India for Your Home
Why consider purchasing a dressing table online in India? Let's break down the advantages in straightforward bullet points:
Wide Selection: Online stores offer an extensive range of dressing table styles to suit your taste.
Convenience: Shop from the comfort of your home, avoiding the hassle of physical stores.
Cost-Effective: Online options often come with competitive prices and exclusive discounts.
Home Delivery: Your chosen dressing table is delivered right to your doorstep.
Customer Reviews: Read real customer reviews to make informed decisions.
Product Details: Access detailed information about each dressing table's specifications.
Easy Comparison: Compare various designs and prices effortlessly.
Customization: Some online retailers offer customization options to fit your space.
Time-Saving: Skip the traffic and queues; shop at your convenience.
Safe Payments: Secure online payment options ensure your financial safety.
No Sales Pressure: Make your choice without the pressure of sales staff.
Easy Returns: Return policies make it hassle-free to exchange or return if needed.
Online Support: Get assistance from customer service for any inquiries.
Track Orders: Keep tabs on your order's progress with tracking facilities.
Deals & Discounts: Online platforms often feature exclusive promotions.
Accessories: Find matching stools, mirrors, or other accessories easily.
Home Decor: Explore complementary home decor items in one place.
Privacy: Create a personal grooming space in your home.
Quality Assurance: Reputable online retailers ensure product quality.
No Crowds: Avoid crowded stores during peak shopping times.
Eco-Friendly: Reduce carbon footprint by not driving to physical stores.
Variety of Materials: Choose from a range of materials like wood, glass, and more.
Size Options: Find dressing tables in various sizes to fit your room.
Style Diversity: Discover dressing tables in traditional, modern, or eclectic styles.
Inspiration: Online images offer ideas for room decor and setup.
Flexible Shopping: Shop anytime, anywhere with internet access.
Delivery Options: Choose convenient delivery slots to fit your schedule.
Secure Packaging: Dressing tables are packaged securely to prevent damage.
Warranty: Many products come with manufacturer warranties for peace of mind.
Easy Assembly: Follow simple assembly instructions for setup.
Value for Money: Get quality dressing tables without breaking the bank.
Return Policies: Transparent return policies offer confidence in your purchase.
Effortless Setup: Most dressing tables are easy to assemble at home.
Stay Safe: Shop safely during challenging times with online purchases.
Satisfaction Guarantee

: Many online sellers prioritize customer satisfaction.
Different Dressing Table Designs for Different Rooms
Tired of settling for the same old dressing table? Bid farewell to the ordinary. We have got a treasure trove of options waiting just for you. Your perfect match is out there. We are here to assist you find it. Something that suits your taste and adds style to your space.
Take a stroll through our line-up of dressing tables, handpicked for you. We've got a variety that caters to different styles, designs, and builds. Let's dive into the world of making your home both beautiful and functional.
Choosing a dressing table isn't universal. It hinges on what you need and like. The space you have matters too. Our models come with a mirror organizer combo, and some can stand alone as a table. Full-length mirrors with side storage or compact half-mirror options—we've got them all. Wall-mounted or freestanding, sitting or standing—you call the shots. It's your style, your way.
We have got some stunners for you if you like retro vibes. Imagine a Victorian-inspired corner with a provincial-style dressing table or a traditional Indian touch with a classic design. Your space, your rules—let your aesthetic sense run wild.
Adecor's wooden dressing tables are a visual feast. They come in various designs, makes and finishes. They are not just goodlooking but also built to last. Teak, walnut, Sheesham, German oak—take your pick in shades of brown, or shake things up with grey and black.
Pair up different colours for a unique combo—maple brown and black, white and beige, the possibilities are endless. And hey, don't forget the vintage rustic or the sleek glossy/matte finishes for that extra flair.
Getting ready isn't just a routine. It is a style statement. Your dressing table is not merely furniture. It reflects your taste. So, browse away and find your match. Let your room tell your story.